Friday, May 14, 2021 11:00 AM - Thursday, May 20, 2021 5:00 PM (EDT)
May 14, 11:00am- 4:45pm, Pre-Conference focusing on Prior Authorization
May 17, 11:00am- 2:00pm, Pre-Conference; Spotlight on The Da Vinci Project, 2:00pm- 4:00pm, Vendor Demo Day
May 18- May 20, Main Conference
Please refer to the PDF agenda for more detail.
Review our sneak peek draft agenda HERE (subject to change)
May 14:
(PRE-CONFERENCE) 11:00am- 4:45pm, Everything You Want (and Need) to Know about Prior Authorization
May 17:
(PRE-CONFERENCE) 11:00am- 2:00pm, Spotlight; HL7 Da Vinci Project
(PRE-CONFERENCE) 2:00pm- 4:30pm, WEDI Vendor Demo Day
May 18-20:
Main conference with keynote speakers and educational sessions looking at health equity, burden reduction and more
WEDI's annual springtime event brings you health IT subject matter experts offering best practices and emerging trends in the industry.
WEDI 2021 will be 4 days of impactful content for any health IT professional. Keynote, general sessions, breakouts and panels focused on various burden reduction elements, including health equity, compliance driven innovation, patient driven value and data driven care.
Pre-Conference sessions will focus on Prior Authorization updates on May 14 and a special spotlight on the Da Vinci Project on May 17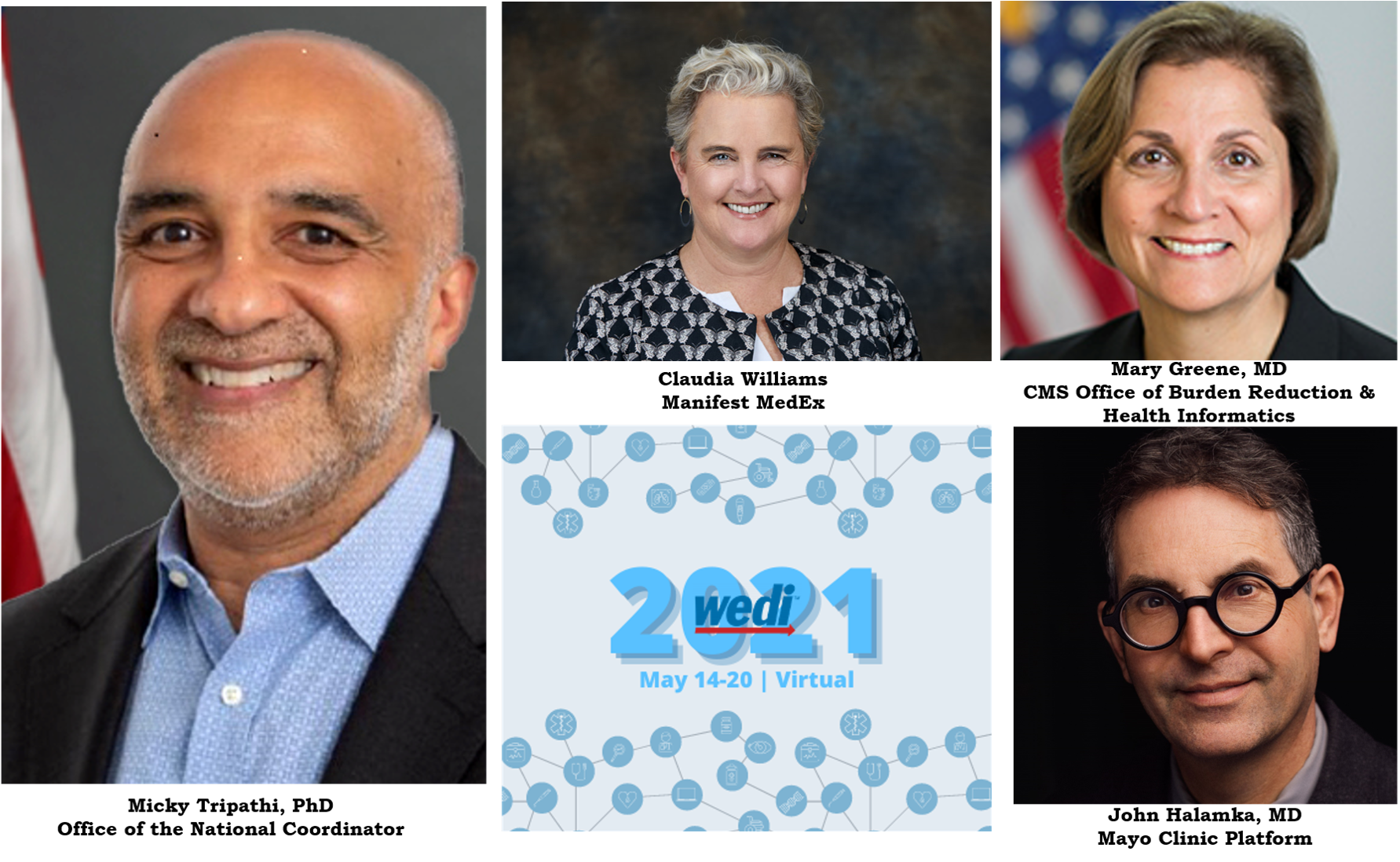 Current Speakers Include (updates coming soon):
Micky Tripathi, PhD National Coordinator for Health IT (ONC)
Mary Greene, MD Director, CMS Office of Burden Reduction and Health Informatics
John Halamka, MD President, Mayo Clinic Platform
Claudia Williams, CEO, Manifest MedEx
Aletha Maybank, MD Chief Health Equity Officer and Group Vice President, American Medical Association

U. Michael Currie, Senior Vice President & Chief Health Equity Officer, UnitedHealth Group
Seth Howard, Product Development Lead, Epic
Steve Waldren, MD Vice President & Chief Medical Informatics Officer, American Academy of Family Physicians
Ryan Howells, Principal, Leavitt Partners, CARIN Alliance
Cathy Sheppard, CEO, X-12
Craig Behm, Maryland Executive Director, Chesapeake Regional Information System for our Patients (CRISP)
Mrinal Bhasker, Founding Partner, Leap Orbit, Strategic Technology Advisor (CRISP)
Molly Murray, Officer, Health IT, Pew Charitable Trusts
Adele Allison, Strategic Business Consultant, Principal, SS&C Health
John Kelly, Principal Business Advisor, edifecs
Robert Tennant, Vice President, Federal Affairs, WEDI
Gallery
Thank you to our Sponsors
Premier Sponsor
WEDI 2021 Sponsor
Event Contact:
Michael McNutt
Contact Organization:
WEDI